Winnipeg is a city that offers a myriad of delightful experiences. One of the most enjoyable ways to make the most of its warm summer days is by indulging in a delicious ice cream treat.
Whether you're a local or just visiting, you'll be pleased to discover the wide variety of ice cream shops that cater to all tastes and preferences.
To help you navigate this frosty landscape, here's a list of the top 5 ice cream shops in Winnipeg, each with their own unique flavors and experiences that are sure to satisfy your sweet tooth.
So grab a spoon and get ready to dive into a world of frozen delights!
No list of Winnipeg's best ice cream shops would be complete without mentioning Bridge Drive-In, or BDI as it's commonly known.
BDI has been a staple in Winnipeg's ice cream scene since 1957, and it's easy to see why.
Located near the Elm Park Bridge, BDI offers a scenic spot to indulge in their wide variety of frozen treats.
Personally, I love taking a leisurely walk across the bridge and then treating myself to their famous "Goog Special." This tasty treat consists of a blueberry shake topped with a hot fudge sundae, whipped
cream, and nuts.
If you prefer a classic cone, their soft serve ice cream is incredibly creamy and the perfect way to cool down on a hot day.
Just keep in mind that BDI closes during winter and usually opens up again late March.
For a unique and heartwarming ice cream experience, Chaeban Ice Cream is the place to be.
This family-owned shop was established by the Chaeban family, Syrian refugees who came to Canada in search of a better life.
The shop is not only a testament to their resilience, but also their desire to share their love for ice cream and their traditional recipes with the people of Winnipeg.
When you walk into Chaeban, you'll immediately notice the welcoming atmosphere and the friendly staff, making you feel right at home.
One of my favorite Chaeban experiences was when I tried their Abir Al Sham ice cream. It is a delightful blend of rose water, orange blossom water, and pistachios. The flavors were so refreshing and unlike anything I've tasted before.
During 2022 Chaeban Ice Cream was even named the best ice cream in Canada, so wouldn't you give them a shot?
In addition to serving delicious ice cream, Chaeban Ice Cream is also dedicated to giving back to the community. The family has partnered with various organizations to provide jobs and training for newcomers, helping them transition to life in Canada. By supporting Chaeban Ice Cream, you're not only indulging in a delicious treat but also contributing to a business that is making a positive impact on the community.
Sargent Sundae (
2053 Portage Ave

)

Sargent Sundae is an iconic ice cream spot in Winnipeg that has been around for over 30 years.

Located near the entrance of Assiniboine Park, it's the perfect place to grab a cone or sundae before strolling through the park or visiting the Assiniboine Park Zoo.

With a wide selection of hard and soft ice cream, sundaes, milkshakes, and even frozen yogurt, there's something for everyone at Sargent Sundae.

During my last visit, I opted for the Banana Split, which was an absolute feast for the senses. Three generous scoops of ice cream (I chose chocolate, vanilla, and strawberry) were surrounded by a fresh banana, drizzled with chocolate syrup, and topped with whipped cream and a cherry. It was both visually stunning and delicious, making it a must-try for any ice cream lover.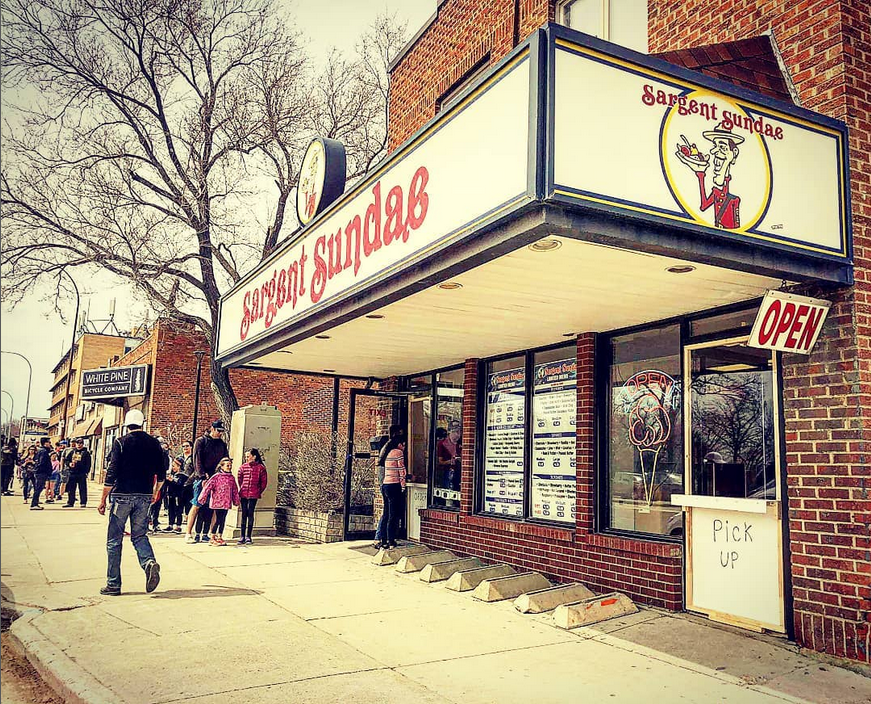 Sweet Tops Ice Cream (949 Henderson Hwy)
Sweet Tops Ice Cream & Frozen Yogurt is another fantastic spot to satisfy your ice cream cravings. Their bright and cheerful storefront invites you in, and once inside, you'll be greeted by a wide array of frozen treats. From hard ice cream and soft serve to frozen yogurt and sorbet, Sweet Tops has it all.
My personal favorite at Sweet Tops is their build-your-own sundae option. You can choose from a variety of ice cream flavors and then add your choice of toppings like hot fudge, caramel, fresh fruit, and an assortment of candies. My go-to creation is a scoop of mint chocolate chip ice cream topped with hot fudge, crushed Oreos, and whipped cream – a delightful combination of flavors and textures that never disappoints.
The staff at Sweet Tops is always friendly and helpful, ensuring that your experience is top-notch from the moment you walk in until you take your last bite. They're also more than willing to provide samples of their different flavors, so don't hesitate to ask if you're having trouble deciding.
If you're looking for a fun and interactive ice cream experience, Sweet Tops Ice Cream is a must-visit destination in Winnipeg. Their extensive menu of frozen treats, combined with their welcoming atmosphere, will have you coming back again and again.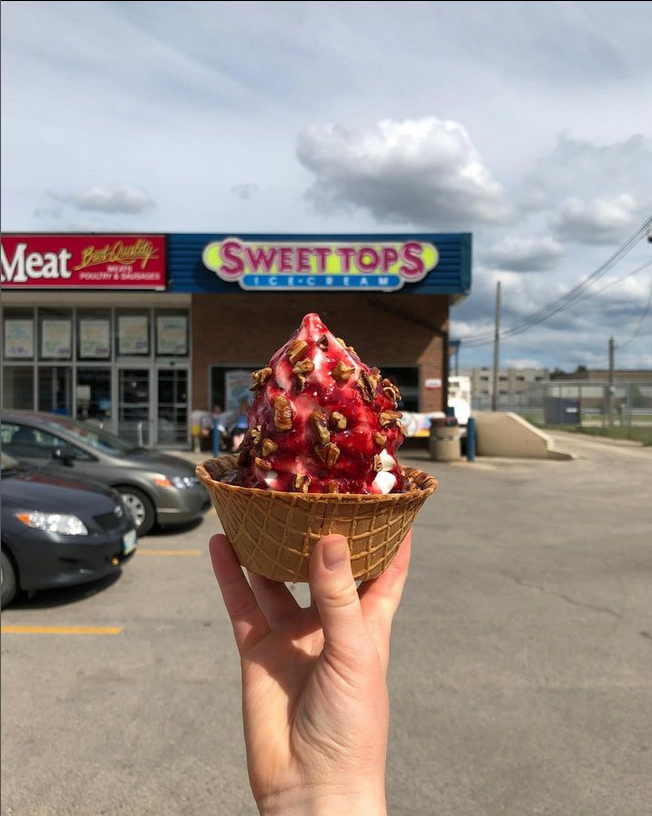 Neon Cone (
1 Forks Market Rd #164

)
Rounding out our list of the best ice cream shops in Winnipeg is Neon Cone, a delightful ice cream parlor nestled in the bustling Forks Market.
With its vibrant atmosphere and impressive selection of frozen treats, Neon Cone has quickly become a favorite spot for both locals and visitors alike.
Neon Cone serves 14 flavors of hard ice cream, including 8 luxuriously creamy, homemade flavors using Manitoba ingredients, six flavors of homemade gelato, and three flavors of soft ice cream. Their menu also features flurries, sundaes, shakes, parfaits, and slushie floats.
If you're a chocolate lover, you'll definitely want to try their hot fudge brownie sundae, or perhaps build your own ice cream sandwich between two locally-made cookies!
During my visit to Neon Cone, I was particularly impressed by their pistachio gelato, which is my personal favorite. The flavor was rich, creamy, and had just the right amount of nutty goodness, making it the perfect treat to enjoy while exploring the Forks Market. I also appreciate that Neon Cone offers both gelato and soft serve options, catering to a wide variety of taste preferences.
What sets Neon Cone apart from other ice cream shops in Winnipeg is their commitment to using local Manitoba ingredients in their homemade flavors. This not only ensures a high-quality product but also supports local producers, making your ice cream experience all the more satisfying.
Open all year round and with late evening hours in the summer, Neon Cone is a perfect destination for a delicious ice cream treat, whether you're taking a break from shopping at the Forks Market or simply looking for a refreshing way to cool off during a warm summer evening.
With its fantastic location at the Forks Market, commitment to using local ingredients, and extensive menu of mouthwatering frozen treats, Neon Cone is a must-visit destination for anyone seeking the best ice cream experience in Winnipeg.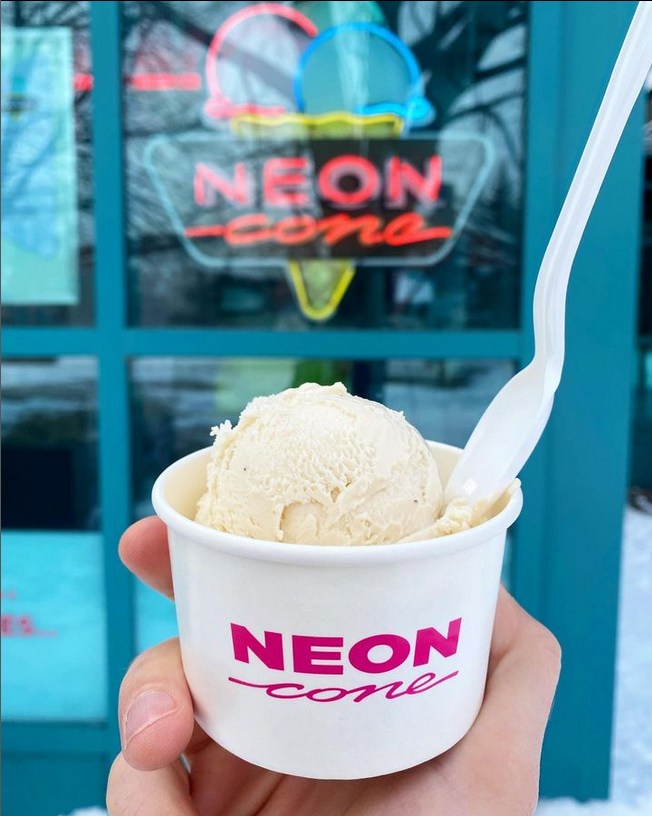 There you have it, Winnipeg is truly an ice cream lover's paradise, with each of these fantastic five ice cream shops offering something unique and delightful. Whether you're drawn to the timeless charm of Bridge Drive-In, the inspiring story and flavors at Chaeban Ice Cream, the iconic presence of Sargent Sundae, the fun and interactive experience at Sweet Tops Ice Cream, or the locally-inspired offerings of Neon Cone, there's a frozen treat for everyone in our amazing city.
As you venture out and enjoy the warm summer days in Winnipeg, make it a point to visit these top 5 ice cream shops and indulge in their scrumptious creations. Not only will you be satisfying your sweet tooth, but you'll also be supporting local businesses that contribute to our city's vibrant and diverse culinary scene. So go ahead, treat yourself to a scoop or two, and embark on a delicious journey to discover your own personal favorite among Winnipeg's best ice cream shops!