Winnipeg's downtown streets are a culinary adventure, an incredible journey of taste and discovery.
In my exploration of our vibrant city, I have been privileged to experience an impressive array of flavors. Each restaurant I have visited tells its own story, contributing to the rich tapestry that is Winnipeg's dining scene.
From the warm waft of fresh bread to the tangy zest of international spices, the downtown district truly offers a symphony of flavors.
I have savored comforting, home-cooked meals, delighted in the exotic flavors of global cuisines, and been intrigued by inventive, contemporary dishes. Each experience, unique and memorable.
These 5 restaurants, in particular, have left a lasting impression. Their distinct offerings have not only tantalized my taste buds but have also deeply enriched my food journey through the heart of Winnipeg.
So, let's embark on this gastronomic exploration together. Allow me to guide you through the bustling streets of Downtown Winnipeg, introducing you to the culinary gems that I have discovered along the way.
It's a journey that promises to be as enriching as it is delicious.
Deer + Almond (
Princess St

)
Cuisine and Style: A creative, small-plates focused restaurant offering a mix of local and international flavors
Deer + Almond, nestled in downtown Winnipeg, is a delight for every food lover.
Its laid-back atmosphere coupled with a unique dining setup offers an experience you can't miss.
You're handed a menu, divided into four categories. Your mission, should you choose to accept, is to pick one dish from each.
This makes your meal a four-course culinary journey. Sounds fun, right?
Starting with the first category, I went for the arancini. A savory bite of this delicacy, filled with mozza and garlic butter, and I was sold.
It was the perfect appetizer to kick-start the evening.
Next, I had my sights set on the grilled chicken thigh from the second category. Bathed in a tropical mix of papaya, lime, and Thai dressing, it was an exotic twist that I absolutely loved.
On to category three, where I was tempted by the sunchoke ravioli. Brown butter, comte, and walnut – what a heavenly combo!
It was a flavorful ride that my taste buds thoroughly enjoyed.
And then, the grand finale – dessert. It was a tough choice, but the Peanut Semifreddo stood out. The rich texture of the semifreddo, combined with ganache and sea salt, was the perfect end to the meal.
Deer + Almond offers a dining experience that's all about choice and discovery. It's like a choose-your-own-adventure book, but for food.
If you're in Winnipeg, it's a gastronomic journey you won't want to miss!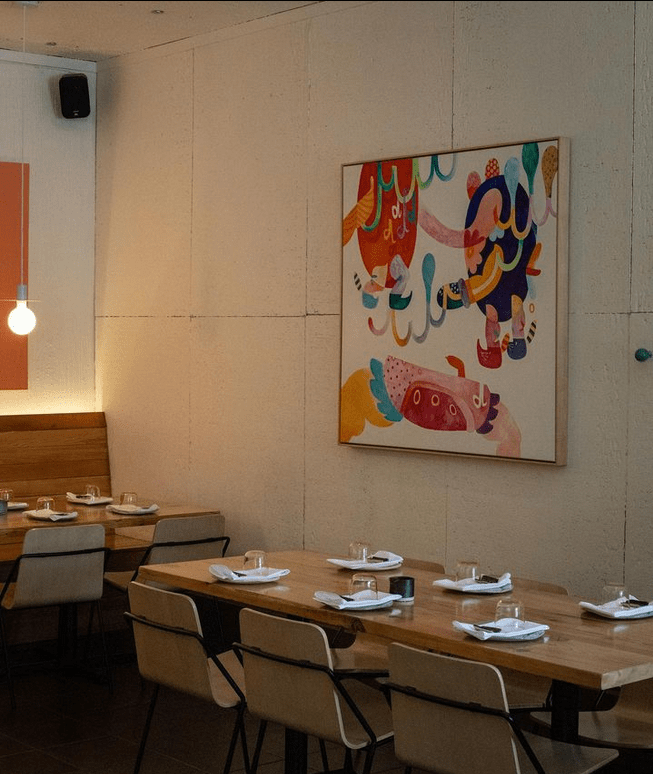 The Merchant Kitchen (Donald St)
Cuisine and Style: Serving a fusion of Asian and Latin American cuisine
The Merchant Kitchen, tucked away in downtown Winnipeg, is more than just a restaurant. It's a passport to a global culinary adventure, transporting you to different corners of the world with each dish.
As soon as you walk in, you're met with a lively atmosphere.
The warm lighting, the buzz of conversation, and the clink of cutlery on plates, it all comes together to create a vibe that's both cozy and exciting.
The menu is a reflection of international street food, a culinary journey that takes you from the bustling streets of Mexico to the vibrant markets of Korea.
Here, the world is at your fingertips, or rather, your fork.
The Carnitas Tacos are a standout, a nod to Mexican street food. The Korean Fried Chicken and Korean Short Ribs pay homage to the fiery, bold flavors of Korea.
Each dish is packed with authentic flavors, a testament to the kitchen's dedication to global cuisine.
But the journey doesn't end with the mains. For dessert, the Chajá takes center stage. It's a delicate balance of textures and flavors, a sweet ending to your culinary adventure.
At The Merchant Kitchen, the emphasis is on sharing, not just food but experiences. Each dish tells a story, each bite a taste of a different culture. It's a truly unique dining experience, right in the heart of Winnipeg.
Peasant Cookery (Bannatyne Ave)
Cuisine and Style: A farm-to-table restaurant offering rustic, locally-sourced dishes
Stepping into Peasant Cookery feels like entering a dear friend's home. Warm lighting casts a soft glow on wooden tables, while the buzz of conversation adds to the friendly atmosphere.
Our culinary adventure began with the Stuffed Mushrooms. Hearty house-made sausage filled each cap, with a smoked jalapeno chimichurri adding a tangy kick.
The mushrooms, tender and succulent, were a symphony of textures and flavors.
Next, we sampled the Beef Carpaccio. Thin slices of lightly smoked beef were enhanced by the sharp Manchego and creamy aioli.
The maple Smack Dab mustard added a delightful sweetness, perfectly balanced by the crunchy crostini.
For mains, the Steak Frites was a standout. The California cut Black Angus striploin was cooked to perfection, the rich flavors enhanced by the confit shallots and red wine veal jus.
Accompanied by crispy house fries, this dish was the epitome of comfort food.
The Aged Cheddar Gnocchi, however, was an unexpected surprise. Soft Parisian-style dumplings were tossed with roasted mushrooms, peas, and garlic chips.
The dish was an exciting mix of textures, the crunch of walnuts contrasting beautifully with the soft gnocchi.
We rounded off the meal with the Dulce Leche and Chocolate Ganache Tart. With its silky texture and sweet berry coulis, this dessert was the perfect end-note to a wonderful meal.
Peasant Cookery delivers more than just food; it offers a warm, homely experience. Each dish feels carefully crafted, the menu a testament to the joys of Canadian comfort food.
The Tallest Poppy (Sherbrook St)
Cuisine and Style: A cozy eatery offering Southern-style comfort food, and touches of a New York deli
The Tallest Poppy, a humble gem nestled in Winnipeg's vibrant cityscape, resonates with a welcoming charm.
An eclectic mix of cozy ambiance and lively energy, this place is adorned with local art pieces, offering a warm nod of greeting from friendly staff.
Our culinary adventure commenced with their renowned Chicken and Waffles. The chicken, succulent within, was encased in an appetizingly crispy exterior.
Complementing it, the waffles were a fluffy delight, subtly sweet and oh-so soft. This peculiar but delicious blend of sweet and savory made for a mouthwatering start.
We then sampled their Reuben, a masterpiece assembled on fresh pumpernickel bread. Their Ruben is stacked with tender corned beef and tangy sauerkraut, the sandwich was brought to life by the Swiss cheese melting into the horseradish beet aioli and special sauce.
Every bite was a delectable mix of flavors, each one leaving us longing for the next.
Adding a traditional touch to our meal was their Chicken and Matzo Ball Soup. The soup was heartwarming, the matzo balls were light, and the chicken was cooked to perfection, providing a soothing balance to the rich flavors we'd experienced so far.
The Tallest Poppy is a testament to how food can be simple yet memorable. Their menu, a tribute to Southern comfort food that meets a New York deli, combined with the welcoming atmosphere, makes this a place you'd gladly revisit.
It's not just the food that keeps you coming back, but the sense of warmth and camaraderie that fills the air.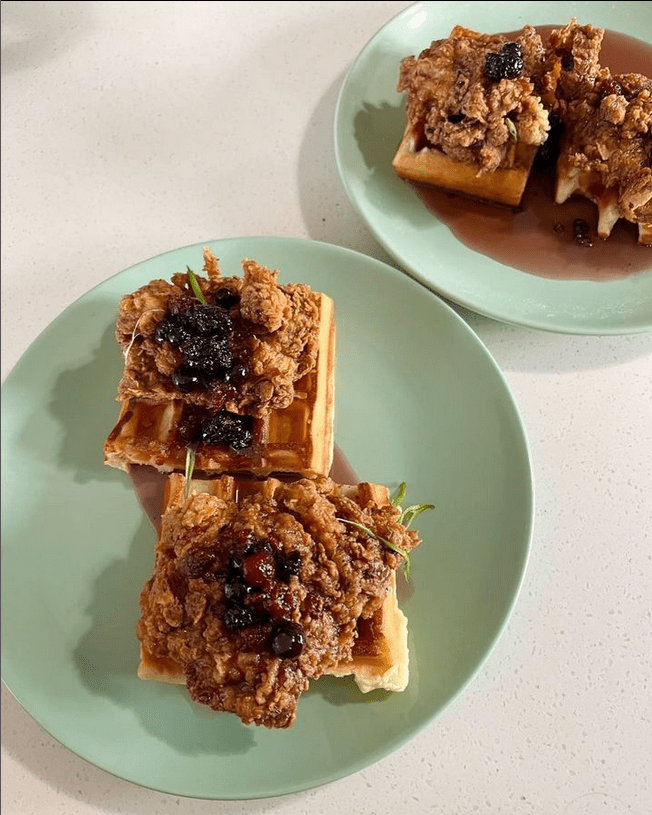 Clementine (Princess St)
Cuisine and Style: Brunch / Breakfast
Stepping into Clementine, in Winnipeg's Exchange District, is like walking into a breakfast lover's paradise.
Their open-til-2pm brunch scene is a magnet for those craving for innovative morning grub amidst a lively yet cozy setting.
On our visit, the Turkish Eggs immediately caught my eye. This dish, a glorious harmony of poached eggs resting on a bed of whipped yogurt and hot chili butter, was an unexpected delight.
Each spoonful brought a burst of rich, tangy, and spicy flavors, defying the norms of traditional breakfast.
Next, we dove into the Fried Chicken on Toast. The buttermilk fried chicken was crispy on the outside, tender within, and a bite into this, along with the tangy dill ranch, sweet calypso honey, and sharp pickles on a crunchy sourdough toast, was a taste explosion.
Finally, we savored their Brussels Style Waffle.
Draped in sweet hibiscus syrup and tangy lemon curd, crowned with a dollop of whipped cream, and sprinkled with a lemon poppyseed milk crumble, this dish was a symphony of flavors.
The fresh berries added a splash of freshness, making it a perfect end to our brunch.
Clementine isn't just about food; it's about creating a memorable experience, with every dish narrating a unique story. So, set that alarm and make your way there before 2pm. Believe me, it's worth it.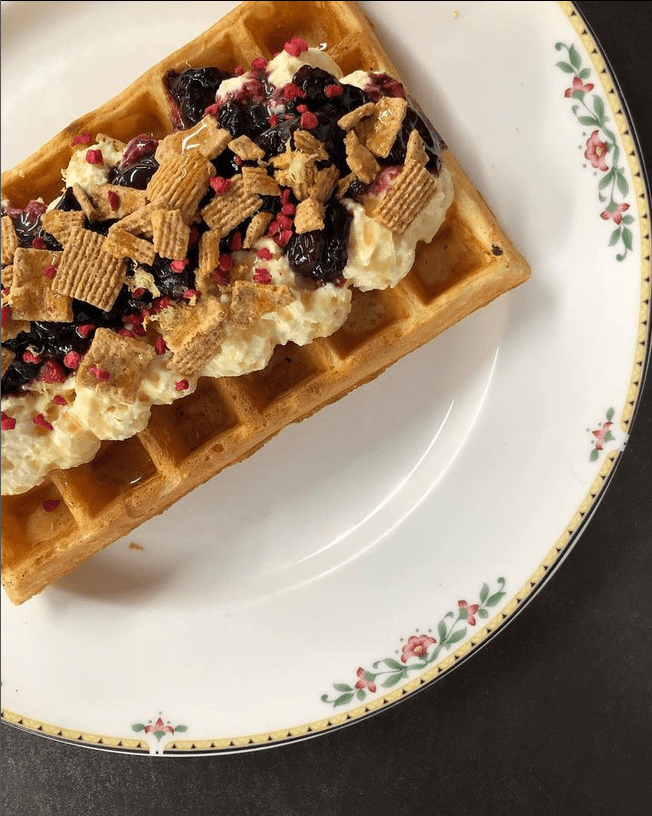 In a nutshell, downtown Winnipeg is a haven for food enthusiasts, offering a medley of flavours and experiences.
My culinary journey led me to these 5 fantastic establishments, each unique and captivating in its own right.
From the innovative dishes at deer + almond to the soul-satisfying breakfast at Clementine, and the delightful variety at The Merchant Kitchen, there's a dish for every palate.
And who could forget the homey, comfort-food vibes of The Tallest Poppy, or the authentic, rustic appeal of Peasant Cookery? Each visit was a unique gastronomic adventure.
So, whether you're a local or a visitor, be sure to add these restaurants to your Winnipeg foodie bucket list. You won't be disappointed.
Bon appétit!