Many of our readers told us that the time has come to compose the definitive list of the best breakfast in Winnipeg.
When it comes to brunch in the Peg, you have a lot of choice.
From all-day diners, to high-end restaurants, and sweet spots in between, finding a good spot for that weekend indulgence is easy enough.
Whether you're looking for a classic breakfast poutine or your eggs benny, there's a lot of great places to get your brunch on in Winnipeg.
There are a few that stand out from the crowd of mediocre eateries, too.
So, we took upon ourselves the exhausting task (😉) of checking some of the greatest places in Winnipeg that serve a killer breakfast.
We only checked locally owned establishments, and no nation-wide chains will be included in this list.
Pauline (Norwood Hotel)
To get to Pauline, you'll find yourself transported to a charming French bistro after navigating through the slightly dated lobby of the Norwood Hotel.
Operating exclusively as a brunch destination, Pauline Bistro welcomes guests each day between 9 AM and 2 PM.
While their menu may not be as extensive as a traditional diner's, the select dishes they offer are nothing short of exquisite.
Their Eggs Benedict is a standout, accompanied by perfectly seasoned hash browns and a mouthwatering hollandaise sauce.
However, the true star of their menu might just be the ever-changing daily omelette. During our visit, we were fortunate to savor a delectable omelette filled with spicy chorizo, creamy goat cheese, and vibrant bell peppers.
As for the ambiance of this delightful spot, it captures the essence of a classic St. Boniface French bistro.
Spending a leisurely morning here, you could easily imagine yourself sipping coffee on a Parisian sidewalk.
With its enchanting atmosphere, Pauline Bistro is the perfect place to start your day on a high note.
Where – 112 Marion Street, right off St. Mary's bridge.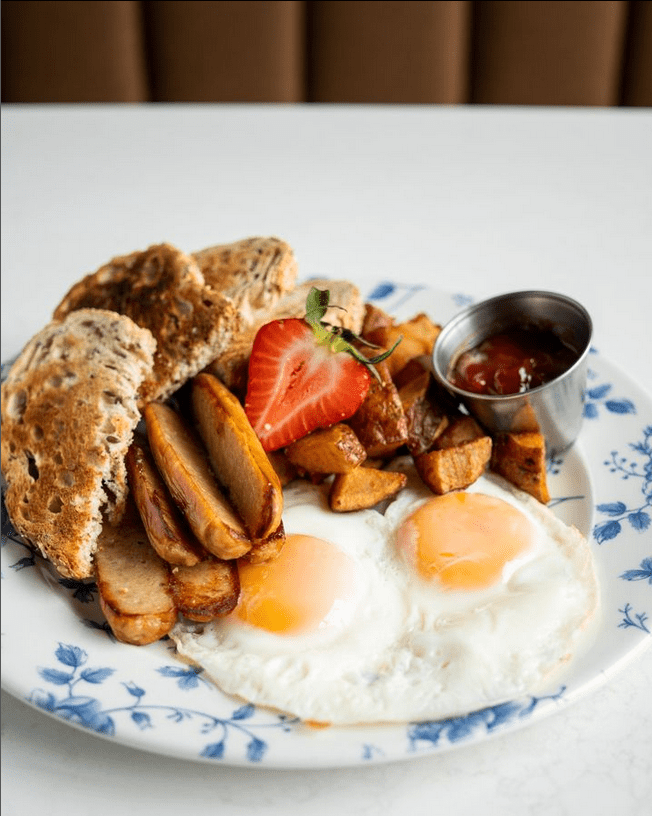 "The Velvet Glove," is another gem tucked away within a hotel, this time situated in the lobby of the Fairmont Hotel downtown.
Although the decor of The Velvet Glove might seem a touch old-fashioned, it lends the restaurant a distinct charm and character.
Having been closed for much of the COVID pandemic, this time-honored eatery reopened in April 2022, just in time for Easter celebrations.
While you won't find any daring, avant-garde twists on your favorite Eggs Benedict here, you can expect to indulge in exceptional renditions of classic breakfast fare.
For those looking to bend the rules ever so slightly, we suggest their scrumptious Avocado Toast. Featuring creamy avocado atop warm naan bread, garnished with poached eggs, a medley of fresh greens, and a refreshing tomato and basil salad, it's impossible not to love this dish.
The Velvet Glove serves its delightful breakfast-brunch menu during the following hours: weekdays from 7 AM to 10 AM, Saturdays from 8 AM to 11 AM, and Sundays from 8 AM to 12 PM. So, be sure to pencil in a visit to this iconic restaurant for a memorable dining experience.
Where – Hotel Fairmont, 2 Lombard Place.
Upon entering the lively "Clementine Café" in the historic Exchange District, I was immediately struck by its trendy, urban atmosphere and the welcoming staff who greeted me with warm smiles.
As I sat down and perused their innovative menu, two dishes caught my eye: the Fried Chicken on Toast and the Chorizo Verde Tostada. I eagerly ordered both, excited to experience the fusion of classic and contemporary flavors that this popular eatery is known for.
The Fried Chicken on Toast arrived first, featuring succulent buttermilk fried chicken atop a slice of crispy sourdough toast.
The dish was beautifully balanced with a drizzle of calypso honey and a dollop of zesty dill ranch, while tangy pickles added a delightful crunch.
Next came the Chorizo Verde Tostada, an eye-catching plate of vibrant colors and bold flavors. The spicy chorizo, combined with the smooth avocado crema and crumbly Cotija cheese, provided a rich, satisfying base.
A perfectly fried egg and zesty pickled pineapple enhanced the dish's complexity, while the curtido and fresh cilantro rounded out the flavors with a refreshing tang.
As I savored each delicious bite, I knew that Clementine Café was a truly special breakfast destination in Winnipeg, offering an unforgettable dining experience that left me eager to return.
Where – 123 Princess St, Winnipeg
When – Open daily 9 am – 2 pm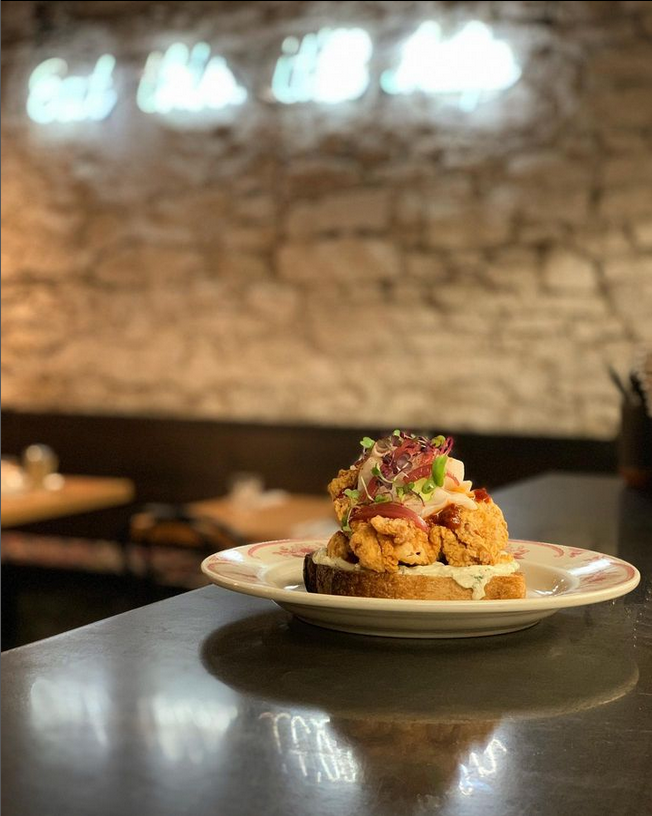 "Stella's" has undoubtedly earned its place as a renowned breakfast spot in Winnipeg.
Although it has expanded into a successful chain with multiple locations throughout the city, it remains a locally owned and operated enterprise, staying true to its Winnipeg roots.
It's no secret that Stella's is well-known among Winnipeg residents, but no compilation of the city's finest breakfast establishments would be complete without a mention of this local gem.
With an impressively diverse and extensive breakfast menu, Stella's ensures that every guest will discover something to delight their taste buds.
One dish that truly captures our hearts (and stomachs) is their Mexican Breakfast.
This vibrant plate features two sunny-side-up eggs nestled on soft corn tortillas, accompanied by rich refried beans, gooey cheddar cheese, and a colorful blend of green onions and tomatoes.
The dish is further enhanced by the harmonious trio of zesty salsa, creamy guacamole, and fragrant cilantro sauce, all served alongside perfectly cooked hash browns. It's nothing short of perfection!
Head to Stella's for a breakfast experience that's sure to please even the most discerning of palates.
Where – Multiple locations, see their website.
When – All Stella's restaurants are open daily 7am-10pm.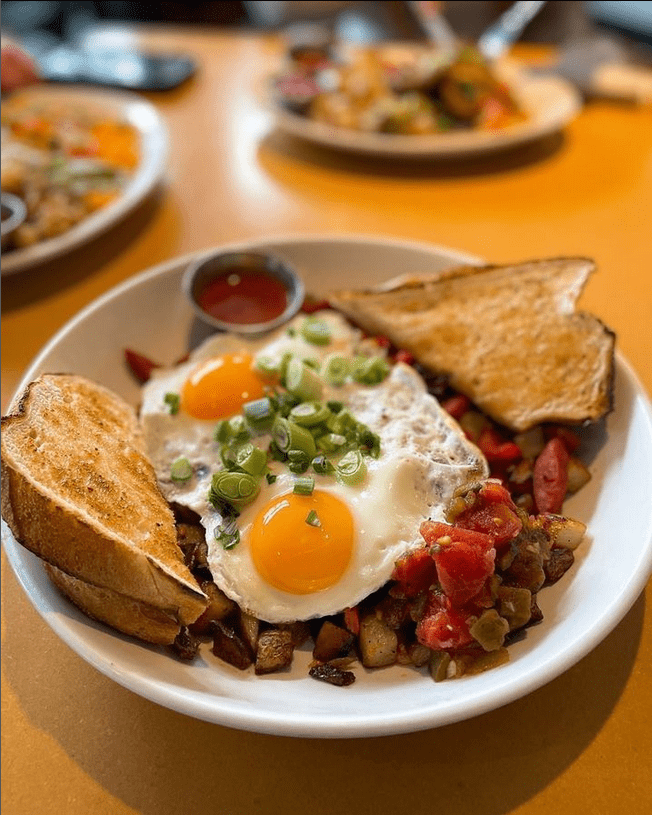 Located in the vibrant heart of St. Vital, on St. Mary's Road, "Juneberry" is a modern breakfast hotspot you'll adore.
First, let's appreciate the picturesque setting.
Positioned perfectly opposite the Red River's bend, Juneberry offers stunning waterfront views to enjoy.
Now, let's dive into their delectable cuisine – Juneberry presents a delightful array of modern and international breakfast dishes.
Here, you'll find a wide variety, from time-honored eggs benedict to an innovative breakfast banh-mi.
Featuring fresh ingredients and bold flavors, each dish is crafted to satiate your breakfast cravings.
With attentive service and a welcoming atmosphere, Juneberry creates a memorable dining experience for all.
So, when you find yourself exploring the banks of the Red River, make sure to visit Juneberry for a truly exceptional breakfast.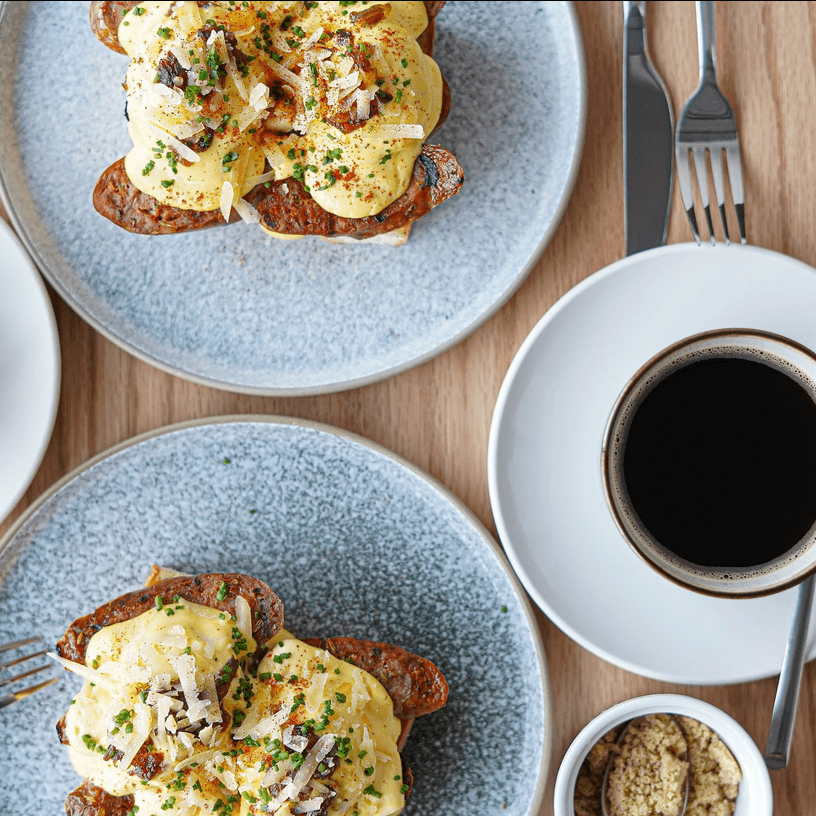 Winnipeg truly is a breakfast lover's delight.
With a myriad of options from all-day diners to high-end bistros, there's a special spot for everyone.
Whether you're craving a timeless Eggs Benedict at the charming Pauline Bistro, or looking to explore innovative breakfast dishes at Juneberry, your taste buds are in for a treat.
Each of these unique, locally owned establishments brings their own flavor to the breakfast scene, making every weekend indulgence a memorable one.
So, why not start your day exploring the best breakfast spots Winnipeg has to offer and embark on a culinary adventure right in the heart of the Peg?
Are you looking for more great eateries in Winnipeg?
Checkout our list of best 5 burgers in Winnipeg, or our definitive list of top 5 pizzas in Winnipeg.