Winnipeg is a diverse city, known for its rich cultural scene, stunning architecture, and of course, mouth-watering cuisine.
Among the many culinary delights the city has to offer, pizza holds a special place in the hearts of food lovers.
Today, we'll be exploring the top 5 pizza restaurants in Winnipeg, each offering a unique and delectable experience.
Santa Ana Pizzeria & Bistro (St. Mary's Rd.)
Tucked away in St. Vital, Santa Ana Pizzeria & Bistro offers an authentic Italian dining experience that's hard to find elsewhere.
Their hand-stretched, thin-crust pizzas are baked to perfection in a wood-fired oven, giving them a distinct smoky flavor that sets them apart from the competition.
The menu boasts a wide range of options, featuring traditional and creative toppings that cater to every taste.
One standout choice is the Santa Ana pizza, topped with prosciutto di parma, cauliflower, asparagus, and asiago cheese.
The combination of flavors is unique and delicious, offering a delightful balance of savory and fresh notes.
For those who prefer a classic, the Margherita pizza is a must-try, with torn basil, fire-roasted tomato, bocconcini, and asiago cheese coming together to create a simple yet satisfying slice.
The Garden pizza is perfect for vegetarians, featuring marinated spiced eggplant, wild mushrooms, sautéed spinach, sun-dried tomatoes, and bocconcini cheese.
Meat lovers will be delighted by options like the 4 Meat pizza, with ham, capocollo, pancetta, and pulled pork, or the Meat Lovers pizza, which adds pepperoni and crumbled sausage to the mix.
Santa Ana's charming, rustic interior creates a cozy atmosphere, perfect for a relaxed evening with friends or a romantic date night.
The attentive staff is always ready to accommodate any dietary restrictions or special requests, ensuring that every guest feels welcome. In addition to pizza, the menu offers a range of Italian favorites, such as pasta dishes and antipasti, making it an excellent choice for a full-course meal.
If you're looking for a truly memorable dining experience, don't miss out on Santa Ana Pizzeria & Bistro.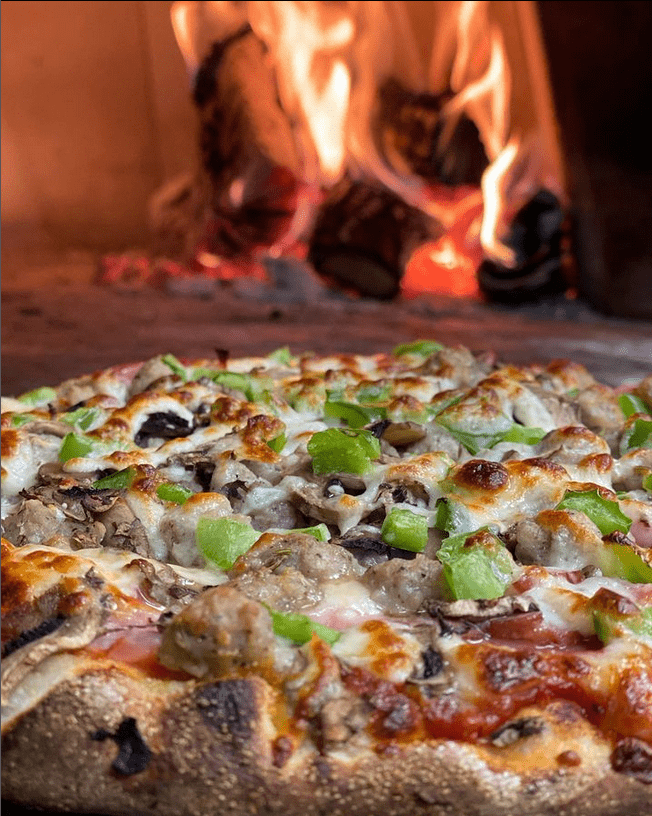 Pronto Pizzeria (Sterling Lyon & St. James)
With 2 locations in town Pronto Pizzeria, a newer player in Winnipeg's pizza scene, is a great solution for your pizza cravings.
As I stepped inside, I was immediately greeted by the friendly staff and the enticing aroma of freshly baked pizza. The menu features a variety of pizzas to suit every preference, from meaty feasts to veggie delights.
As a meat lover myself, I couldn't resist trying the Carnivore pizza, topped with classic tomato sauce, mozzarella, pepperoni, Italian sausage, and beef.
Each slice was a symphony of flavors, with the savory toppings perfectly complementing the crispy crust and tangy sauce.
The BBQ Chicken pizza was another standout choice, featuring barbecue sauce, mozzarella, chicken, red onions, and banana peppers. The combination of smoky, tangy, and spicy flavors created a unique and delicious experience that I won't soon forget.
For those who prefer lighter options, the Low Calorie pizza is a great choice. With classic tomato sauce, low-fat mozzarella, mushrooms, green peppers, grilled vegetables, and tomatoes, it's a tasty and guilt-free indulgence.
The Vegetarian pizza, on the other hand, offers a colorful array of classic tomato sauce, mozzarella, mushrooms, green peppers, grilled vegetables, and tomatoes, satisfying both the palate and the eyes.
As I savored the last bite of my Old School pizza, loaded with classic tomato sauce, mozzarella, old country pepperoni, salami, ham, mushrooms, green peppers, and fresh tomatoes, I knew I'd found a new go-to spot for pizza in Winnipeg.
With speedy service, a casual vibe, and a variety of mouthwatering options, Pronto Pizzeria is the perfect place for a quick, satisfying meal or a relaxed gathering with friends.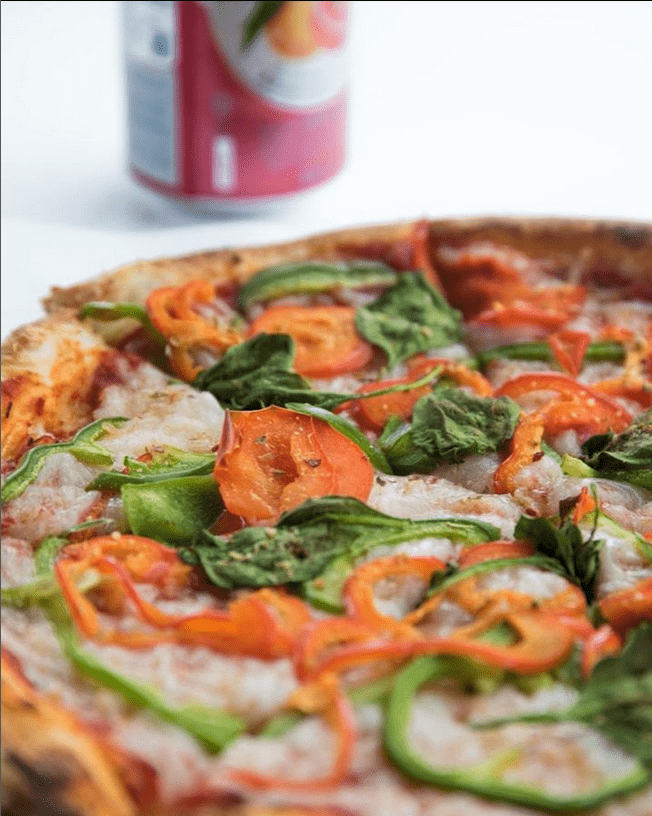 Red Ember Common (The Forks Market)
Situated within The Forks Market, Red Ember Common serves up delicious wood-fired pizza with a creative twist.
As soon as I walked in (or sat down, as it is part of the Forks Market), I was captivated by the aroma of fresh ingredients and the sight of the open-concept kitchen, where skilled chefs expertly crafted each pizza. Red Ember's farm-to-table approach ensures the freshest, locally-sourced ingredients in every slice.
Unable to resist the Classic pizza, I was delighted by the combination of Manitoba tomato sauce, Berkshire pepperoni, roasted mushrooms, and mozzarella.
The flavors melded together beautifully, providing a satisfying and comforting taste of home.
The Hot N' Honey pizza was another standout choice, featuring San Marzano tomato sauce, Berkshire pepperoni, Fior di Latte (semi soft fresh cheese), Serrano chillies, and garlic honey.
The sweet and spicy notes created an exciting and flavorful experience that I would highly recommend.
For a unique twist on traditional pizza, we've also tried the Twist & Sprout, which combined crème fraîche, brussel sprouts, roast garlic, pancetta, and blue cheese.
The unexpected flavors worked harmoniously together, creating a truly memorable pizza experience.
As I enjoyed my meal, I couldn't help but appreciate the lively atmosphere at Red Ember Common and the surrounding Forks Market.
The friendly and knowledgeable staff were always happy to answer questions or make recommendations, ensuring that every guest felt welcome and well taken care of.
If you're looking for a unique, delicious, and local dining experience, Red Ember Common is the place to be.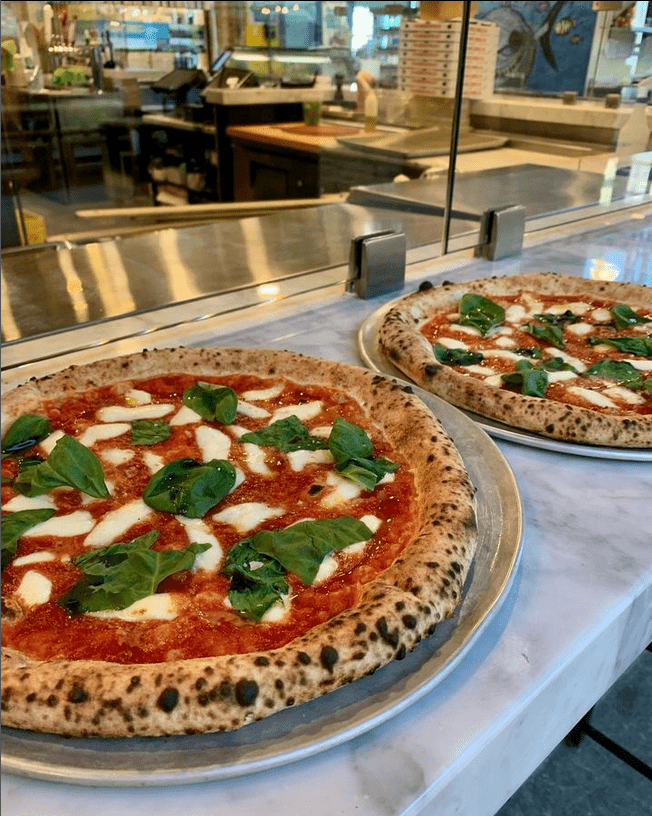 Pizzeria Gusto (Academy Rd)
Tucked away in the picturesque River Heights neighborhood, Pizzeria Gusto is a charming and elegant spot to enjoy authentic Italian cuisine, including some of the best pizza in Winnipeg.
As our group walked in, we were immediately impressed by the warm atmosphere and attentive service, creating the perfect backdrop for a memorable dining experience.
We've decided to share three different pizzas to get a real taste of what Pizzeria Gusto had to offer.
The first was the Forno 195 BC pizza, featuring N'Duja tomato sauce, caramelized fennel, gorgonzola, mozzarella, and grilled shrimp.
The flavors were exquisite, with the spicy sauce and robust gorgonzola harmoniously blending with the sweetness of the caramelized fennel and tender shrimp.
Next, we tried the La Sera pizza, which consisted of rosemary, cashew cream, caramelized onion, chilies, roasted potato, and broccolini.
This unconventional combination was a delightful surprise, and the creamy cashew sauce provided a unique and satisfying base for the diverse toppings.
Finally, we sampled the Sylvia pizza, which boasted herb oil, pine nut arugula pesto, grilled shrimp, pancetta, roasted tomatoes, and mozzarella.
This delightful medley of flavors was the perfect balance of fresh and savory, making it a hit amongst our group.
As we enjoyed our meal, it was impossible not to appreciate the lively ambiance at Pizzeria Gusto, and the friendly and knowledgeable staff were more than happy to answer any questions or offer recommendations.
If you're seeking a cozy, upscale spot to indulge in some of the best pizza Winnipeg has to offer, be sure to pay a visit to Pizzeria Gusto.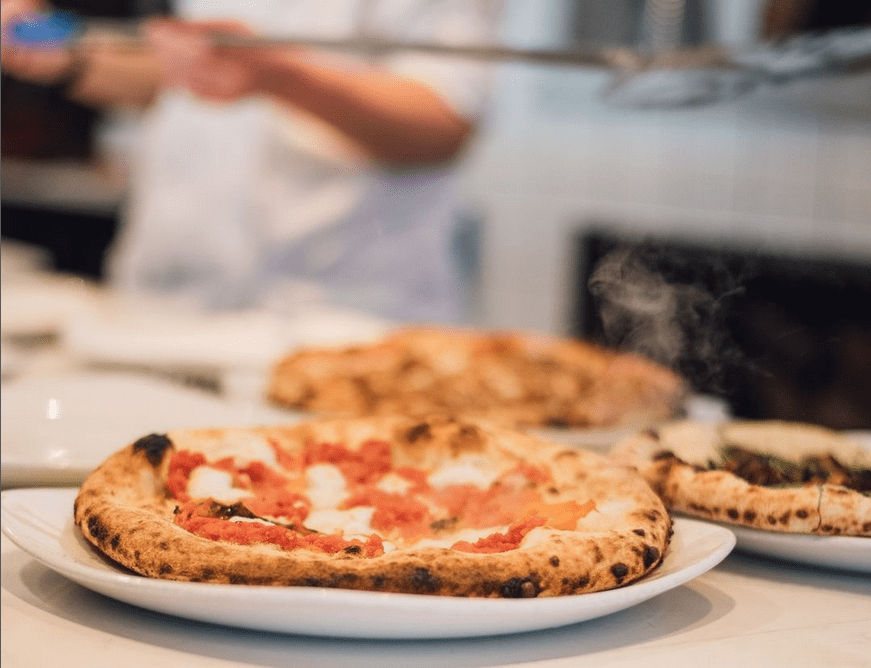 Tommy's Pizzeria (Corydon Ave)
Located on the bustling Corydon Avenue, Tommy's Pizzeria is a trendy and inviting spot to enjoy a scrumptious pizza meal.
As soon as we stepped inside, we were captivated by the cozy atmosphere and the friendly staff who greeted us warmly.
We couldn't wait to try their pizzas, so we decided to order two of their specialties.
The first was the Tommy's Special, also known as the Spicy Honey pizza. With a spicy honey base, this pizza was topped with mozzarella, creamy burrata, fresh arugula, thin slices of prosciutto, and a touch of lemon zest. The blend of sweet, spicy, and tangy flavors was incredibly unique and absolutely mouthwatering. The creamy burrata and crispy prosciutto added a beautiful contrast in texture, making each bite even more enjoyable.
Next, we dove into the Scotty Smokevitch pizza. This hearty option featured a classic tomato sauce, mozzarella, pepperoni, homemade sausage, whipped ricotta, fresh garlic, oregano, and a sprinkling of parmigiano. The combination of flavors was robust and satisfying, with the whipped ricotta adding a light, creamy touch to balance the meatiness of the pepperoni and sausage.
Throughout our meal, the attentive staff at Tommy's Pizzeria made sure we had everything we needed, contributing to the overall fantastic experience.
During the summer months you can also enjoy their amazing patio, and have yourself some outdoor pizza.
If you're on the hunt for a lively and welcoming spot to indulge in some of the best pizza in Winnipeg, look no further than Tommy's Pizzeria on Corydon.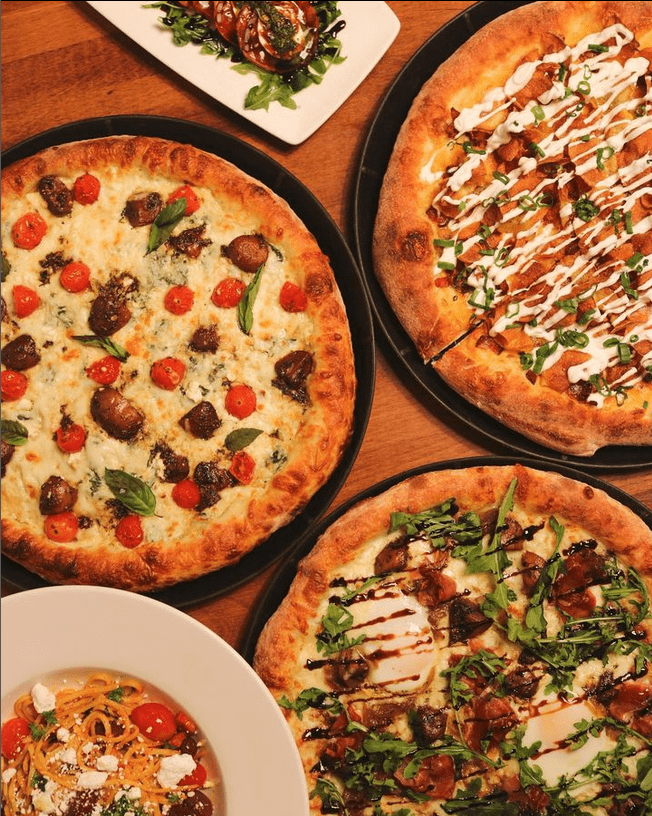 So there you have it, our top 5 picks for the best pizza in Winnipeg in 2023!
Each of these fantastic pizza joints offers its own unique take on the classic dish, providing a mouthwatering experience that will leave you craving more.
Whether you're a fan of traditional Margherita or adventurous with your toppings, there's something for everyone at these must-visit establishments.
So be sure to gather your friends and family and embark on a pizza journey through the city. We promise you won't be disappointed!